Misadventures in Space and Time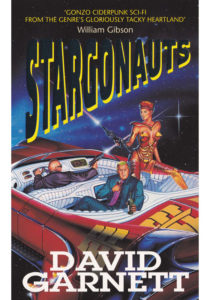 Stargonauts is the first volume in a loosely linked three book comic science fiction series, followed by Bikini Planet and Space Wasters. Each can be read as a stand-alone novel, without any reference to the other two. All were originally published in paperback by Orbit Books, Britain's top science fiction imprint.
"Gonzo ciderpunk sci-fi from the genre's gloriously tacky heartland." –  William Gibson
"Zen sci-fi guru Garnett excels in this bonk-and-blaster epic romp across the zanier reaches of the spaceways." – Michael Moorcock
"If there's anyone out there, they'll be shaking with delight at Stargonauts." – Brian W. Aldiss
"A must for the sci-fi addict." – John Clute
"Picaresque splendour. As witty as ever." – Richard Cowper
"Very, very funny." – Locus  (full review below)
Stargonauts tells the tale of multi-billionaire media tycoon William Ewart, the second richest man on Earth, who is scheming to become the richest by bankrupting his greatest rival. But things don't quite work out that way, and instead Ewart finds himself facing a long spell in jail. He's a renowned gourmet, but he probably won't be allowed to share a cell with his own personal chef. It's either prison food – or escape.
Ewart heads for the stars.
Fleeing a legal system so complex that even his lawyer doesn't know who to bribe, Ewart is also on the run from various wives and other hated family members, and the most avaricious enemy of all: the Terrestrial Taxation Authority. It may have been easier if he'd first checked that none of these were on board the same spaceship with him, including his new wife – who, as well as being an alien, he now discovers is four years old.
Not that any of this may matter, because the getaway ship operates on an obsolete and unique propulsion system. Obsolete because it's old, and unique because it's the last such ship in the galaxy. All the others have vanished without trace.
If he survives long enough, William Ewart is ready to take on the universe.
But is the Universe ready for William Ewart . . ?
"A tremendous satire on many of the facets of science fiction. It's an adventure novel, with space pirates, archaeologists, secret agents, stowaways, etc. The main character, William Ewart who escapes his creditors, wives and other sordid beings including internal revenue men in the spaceship Demon Star, is one of the funniest to appear in science fiction since Robert Heinlein's Jubal Harshaw. His excuse for leaving in the spaceship is an archaeological expedition for which Ewart has procured the services of earth's most eminent archaeologist, Professor Ling Gorf Carillos. After the voyage is underway, Ewart discovers that Carillos has never been more than twelve miles from the university he taught at. The story reads fast and is very, very funny. Stargonauts is well worth the price." Locus review.
The first chapter of the book can be read by clicking the cover image on the Stargonauts Amazon/Kindle page = Stargonauts eBook: Garnett, David S: Amazon.co.uk: Kindle Store
Now read on . . !
Cover credit: Mick Posen