Further Misadventures in Space and Time
Space Wasters is the final volume of a loosely linked three book comic science fiction series. The other two titles are Stargonauts and Bikini Planet. Each can be read as a stand-alone novel, without any reference to the other two. All were originally published in paperback by Orbit Books, Britain's top science fiction imprint.
"The SF novel we've been waiting for – spoof, satire, a gripping plot An epic romp across the zanier reaches of the spaceways. Don't miss this class act." –  Michael Moorcock.
"Reads like Joseph Heller's Catch 22 in space. A thoroughly enjoyable romp." Vector
"Magnificent deadpan silliness. Ranks with the best of Robert Sheckley, Ron Goulart, Keith Laumer and Harry Harrison." Isaac Asimov's SF Magazine (full review below)
Space Wasters brings together the three main characters from Stargonauts (William Ewart, multi-married runaway media tycoon and self-proclaimed galactic gourmet) and Bikini Planet (Wayne Norton, rookie Las Vegas cop lost for 300 years, and the seductive Kiru, space pirate and fugitive convict). Their different stories lead them from paradise planet Cafe World to the extreme opposite – the harsh and austere home world of the Algolans, the most ruthless and feared warrior race in the galaxy. Luckily, or maybe not, the Empress of Algol is Ewart's sister-in-law.
Ewart, Norton and Kiru have been deviously brought together by the enigmatic *******. Their mission? To save the universe from total annihilation. Maybe they should have been told that first.
But before then the intrepid trio have to escape the most tyrannical power in galactic history. A secretive species unknown even to those myriad worlds trapped in its ruthless grip, an unstoppable force which makes the combined might of the Algolan Empire seem as harmless as a butterfly. (Although obviously not the type of butterfly which flaps its wings and causes a planetquake half a galaxy away. Obviously.)
After that, saving the universe should be no problem . . .
"David Garnett returns to the cosmic, comic saga begun in Stargonauts and Bikini Planet with Space Wasters, and I'm pleased to report that all the magnificent deadpan silliness is replicated in spades.
"Our cryonic voyager from the twentieth century, Wayne Norton, having previously survived various futuristic trials, finds himself in paradise at book's opening, married to the lovely Kiru and lazing around on the resort planet Caphmiaultrelvossmauf. But with Kiru's inexplicable abduction, Wayne is plunged into a quest involving galactic tax inspectors, space pirates, communistic yet militaristic aliens with a grudge against the whole universe, and a mysterious being named *******. Clad only in a light-opera steward's uniform, Wayne must use all his intelligence and wiles – not to mention his capacity for imbibing alien liquors – to recover his lost love. Into the stew are tossed twin news-bimbos named Candy and Mandy, three roguish brothers, one of whom is a sister, and various 'aliens . . . almost as bad as humans.'
"Replete with hilarious scenes – such as when Wayne arrives as ambassador on the planet of the Algolans and is mistaken as a gun-runner – and rich with jazzy dialogue, this book ranks with the best of Robert Sheckley, Ron Goulart, Keith Laumer and Harry Harrison. With more SF like this, the world would be a happier place." Paul Di Filippo: Isaac Asimov's SF Magazine.
The first chapter of the book can be read by clicking the cover image on the Space Wasters Amazon/Kindle page =
Space Wasters eBook: Garnett, David S: Amazon.co.uk: Kindle Store
Now read on . . !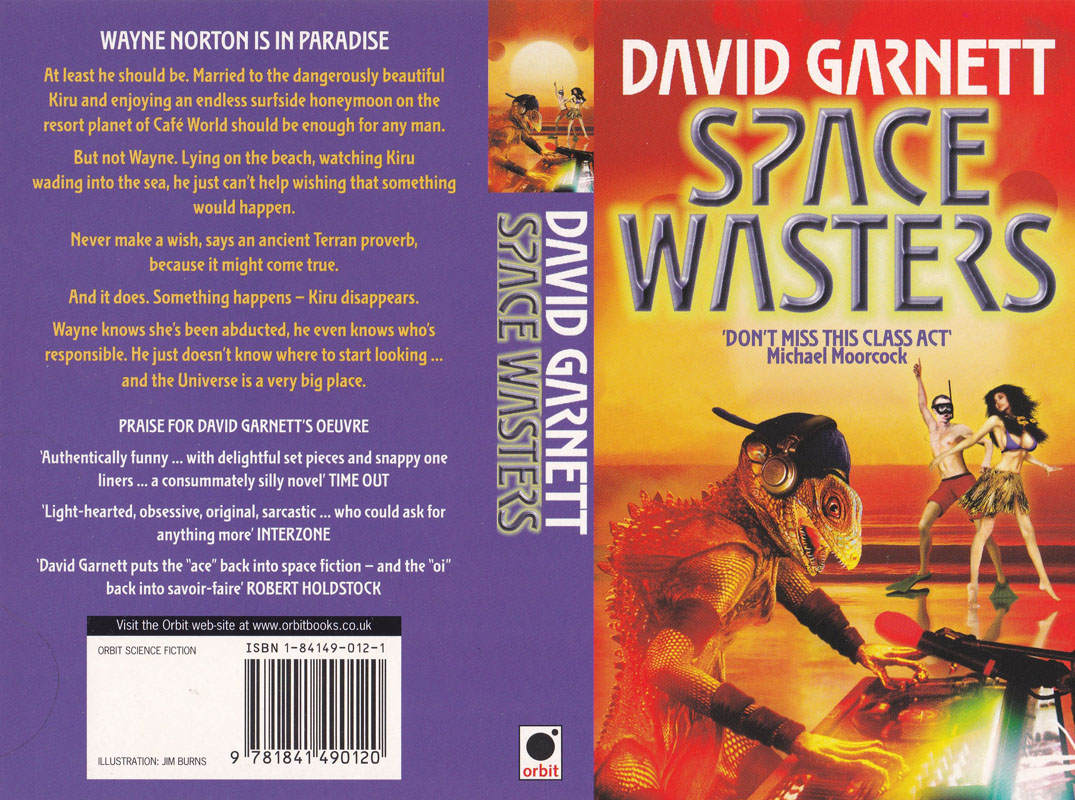 Cover credit: Jim Burns